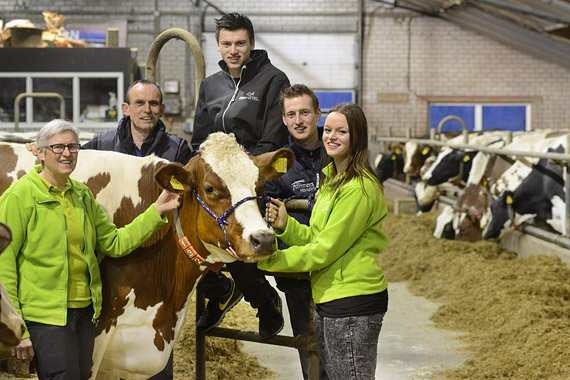 Welcome to our family farm
Barendonk Holsteins
The dairy farm comprises 130 milking cows and 90 young stock. We built the free-stall barn in 1979, and expanded it in 1988 and again in 2005 to a total of 135 cubicles, with R-shaped posts and fitted with mattresses. The ventilation is regulated by an automatic weather station, which opens or closes the curtain automatically. During hot and/or moist days we use four large ventilators for extra cooling. Since May 2005 we milk our cows using two Lely robotic milkers. Since 2012 we started testing CRV heifers.
LABOUR: Jan, Liesbeth and their children Ivo, Tessa and Jens.
They also regularly have a trainee.
Milkquota: 1,334,000kg of milk with a fat reference of 4.10%
Average Production
| Year | Age | Days | Kg Milk | % Fat | % Protein |
| --- | --- | --- | --- | --- | --- |
| 2013 | 3.09 | 360 | 10,826 | 4,36 | 3,57 |
| 2012 | 3.08 | 368 | 11,287 | 4.30 | 3,56 |
| 2011 | 3.06 | 375 | 11,944 | 4.11 | 3.55 |
Average Conformation
| | Frame | Dairy strength | Udder | Feet & Legs | Final score |
| --- | --- | --- | --- | --- | --- |
| Heifers | 85.5 | 85.1 | 84.7 | 83.6 | 85.0 |
| 2nd calvers | 89.0 | 90.0 | 87.3 | 88.0 | 88.3 |
| Older cows | 89.3 | 90.9 | 90.3 | 88.3 | 89.9 |
| Overall | 85.9 | 85.8 | 85.2 | 84.1 | 85.2 |